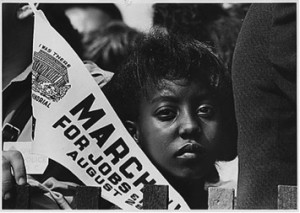 The story of Black Music is the story of America .
No single population has provided bigger influence on American Music than the African American Community. Music, Rhythm and Culture of Black History!
This program presents American Civil in an engaging and uplifting manner. The audience Rights
will join in
singing and clapping along to
featured the many "Freedom Songs" in the program.
The narration uses simple language and
brief includes explanations of unfamiliar
terms, such
Younger elementary as "segregation," "boycott" and "NAACP." school audiences will benefit from classroom preparation in which the history of racial discrimination in America can be discussed. Many children, growing up in an America governed by an African-American President, may need support in order to understand the racially-divided America of past generations.
"A Change Is Gonna Come"  For Black History Month,  SQUEAKY CLEAN presents a multimedia history of the American Civil Rights Movement from 1954 – 1968, including Rosa Parks, Ruby Bridges,Martin Luther King, Jr  The reassuring voice of a grandmother explains the major events of . and the Freedom Riders.
the Movement in clear and simple language, accompanied by still photos and video clips.  Suzanne, Glenn and Phil perform
many songs associated with the period, including "We Shall Overcome"  "If I Had A Hammer"  "What The World Needs Now" and "Ain't Gonna
Let Nobody Turn Me Around."
Key figures and dynamic songs
from the time period are welcomed to the stage with an accessible script that provides a great launching pad for understanding this challenging time in our nation's past.
An uplifting, inspirational review of a critical period of American history .
Curriculum Connections: Social  Studies, History, Black History Month, Music, Arts, Theater