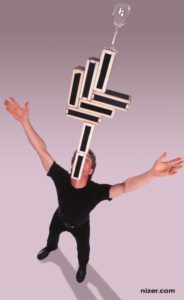 Join us for CIRCUS FUN!
The ONLY LIVE 3D CIRCUS SHOW IN THE WORLD!
Performed Walt Disney World, Kennedy Center, Lincoln Center, MTV, HBO's, Arsenio Hall, Jerry Seinfeld, Ray Charles, theaters and colleges.
Take your audience to the next level
Amazing Juggling Balls
Juggling Clubs
Devil Sticks
Chinese Diablo
Laser Beams
4D ROBOTS, 4D LAZERS, 4D MUSIC
Black Lights
OUTRAGEOUS COMEDY
NOTHING LESS THAN BRILLIANT
Whether juggling laser beams at 1000 rpms, or five ping pong balls being thrown 20 feet in the air using only his mouth; a running electric carving knife and a 16-pound bowling ball,
Making the impossible possible! And the improbable, probable!
You have to see it to believe it.
Don't miss out this spectacular CIRCUS 3 D show your campers will never forget!
54 SEATS BUSING IS AVAILABLE for an additional low fee (call 718-266-0202 for details)