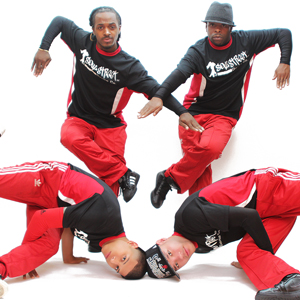 Come on one & Come on all!
Let's DANCE To Celebrate the Summer Fun!
Take a FUN journey through the dynamic world of
HIP-HOP
AFRICAN
BREAKING
BRAZILIAN
PUERTO -RICAN
AFRO-CUBAN
LATIN
DANCE
brought to you by the


4th Generation of




The

WORLD FAMOUS


DYNAMIC ROCKERS
HIGHLIGHTS:
Bulgaria, Brussels, Korea, Brazil, UK, Portugal, Holland, and Netherlands
to demonstrates a leadership dance worldwide 
This program will challenge students
minds and body through the Breaking HIP-HOP DANCE
Students & Campers will learn advanced movements,
discipline, social skills through team work and how to dance at a high level.

This program will demonstrate a leadership and inspire students!
AUDIENCE PARTICIPATION is a part of this show to MAKE IT FUN.
They will be introduced to Multi-Cultural Traditions
Music, Dance, Theater Arts, Physical Fitness, Team Work and Self-Esteem.
A MUST SEE SHOW!
Fun and inspiration for children of all ages!
Join us for LAUGHTER, FUN & SPECIAL TREAT
 54 SEATS BUSING IS AVAILABLE
for an additional low fee call 718-266-0202 for details