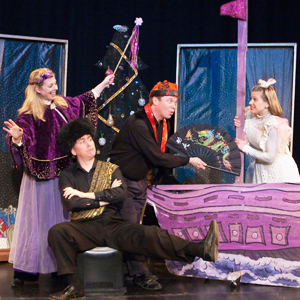 Holiday Tales is a multi-cultural sparkling collection of holiday stories from different cultures including Christmas, Kwanza and Chanukah.
As for miracles, they are the love and kindness and generosity that are the spirit of the season and the heart of each tale!
Stories include "Gift of The Magi", "The Nutcracker", "and The Kwanza Kite", and "The sole of a Menorah."
Nominated for an Emmy, Pushcart is celebrating its 39th year as a touring ensemble. Touring highlights include performances at the White House, Czech Republic and Russia.
Holiday Tales is the perfect gift of theatre to celebrate the Winter Holidays!
Curriculum Connections: Multi-Cultural, English Language Arts, Writing, Reading, Visual Arts, Music, Dance