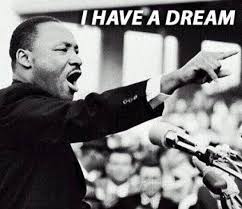 Join us in honoring Dr. Martin Luther King Jr. 
"Lift every voice: The Hope and Promise of America's Civil Rights Movement"
It speaks to the voice inside us all – particularly our young people – that says: "Equality." So many shared Dr. King's dream during his all too short life.
We celebrate the ordinary people and the extraordinary events of this pivotal time in history. The most influential and charismatic leader of the "American Century"
"The examination of individual experiences, historical narratives, and events promotes an understanding of individual and community responses to the violation of fundamental rights" is how New Jersey Standards cite the study of Martin Luther King Jr. your students will be inspired and compelled to learn this and more.
The phenomenal impact of Dr. Martin Luther King Jr. is chronicled in this compelling dramatization of the life and times of one of the most influential and charismatic leaders of the "American Century." 
Inspired by the arrest of Rosa Parks, Dr. King becomes the prime mover behind the Montgomery, Alabama bus boycott, putting his philosophy of non-violent protest to work. He gains national recognition and becomes the dominant force in the Civil Rights Movement during its decade of greatest achievement.
Your students will be inspired by the story of this great leader's struggle and his dream of lifting "our nation from the quick-sand of racial injustice to the solid rock of brotherhood". Yolanda King, Dr. King's daughter, saw this production and gave it rave reviews!
Curriculum Connections: Social Studies, History, Black History, Theater, Arts