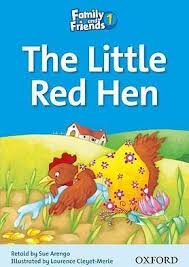 Little Red Hen is an old
Based on the traditional folk story Book, Music and Lyrics by Ford Flannagan . FOLK TALE of the FABLE type.
The story is applied in teaching children the virtues of work ethic and personal initiative. 
It's important for kids to learn to ignore the naysayers while doing the right thing. Rewards – Of course the most practical lesson is that the initiative and hard work paid great rewards in the The  end.Little Red Hen  had some delicious bread to eat and share with her family while the other animals had nothing.
To find the moral
, or the message, in a 
story
, we can answer a few questions . The 
Little Red Hen
 wanted her friends to help her turn the wheat into bread. … This 
story
 was told to teach kids that if they work hard they will be rewarded."Who'll help me plant the seed?" asks the plucky red hen as she begins the process that goes into making a loaf of her delicious bread. "Not us," say the sheep, the cow, the horse, and the pig. They all have better things to do. But, "a hen's gotta do what a hen's gotta do," and so our crimson heroine perseveres until her work is done. But, the tricks of the conniving fox combine with the hen's common sense to add adventure and a sound moral lesson to this classic, feel good, foot-stompin' country musical.
Curriculum Connections: Folk Tales, Language Arts
, Reading, Science, Music, Peer Pressure, Self Esteem, Character Development