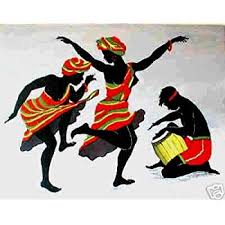 Nego Gato Afro-Brazilian Music and Dance Ensemble bring to their audiences the rich African influenced rhythms and dances originating in Salvador, Bahia, Brazil, a region known for custom deeply rooted in the traditions and spirituality of ancestral Africa.
The stories, dances and music that make each culture unique can travel with people across oceans to other parts of the world. When thousands of Africans were forcibly taken to Brazil and other parts of South America during enslavement, the musical instruments they played, foods they ate, and traditions they celebrated became part of daily life in Brazil. The challenges that faced early Afro-Brazilians also influenced their culture, as seen in the beautiful dance and martial art known as Capoeira. Using representative songs and instruments, Nego Gato Music and Dance presents a range of African-Brazilian dances with accompanying music. All are accompanied by live percussion and traditional instruments making for an exciting and engaging performance.
Your students will meet the natural forces behind the rivers and the ocean, and watch (and dance with) Capoeiristas, people who play the game of Capoeira, an African Brazilian martial art that combines dance, gymnastics and acrobatics. Experience the magic of Salvador!