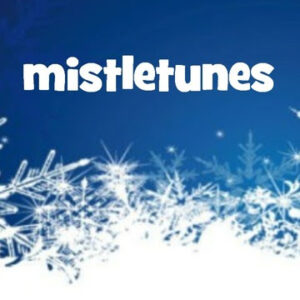 December is an opportunity to learn about celebrations observed by African, Christians, Jews, Muslims, as well as various Asian and South Asian cultures.
This multicultural December show "Mistletunes" to meet the needs of schools with a diverse population of children who observe holiday celebrations towards the end of the calendar year, including Christmas, Hannukah, Kwanzaa, Dongzhi, Three Kings Day and Eid-al-Fitr.
The classic Jingle Bell Rock opens the show as the audience claps and sings along.  There is also lots of enthusiastic singing along with Suzanne as she sings Rudolph The Red-Nosed Reindeer wearing pretend antlers, the first of many silly hats she will wear during the performance.
All children love to sing  The Dreydel Song.  The audience gets a chance to imitate the spinning top as Suzanne shows them how to do The Twist from their seats.  Must Be Santa combines an irresistible polka beat with call-and-response lyrics.
Many holidays share customs such as lighting candles, exchanging gifts, festive meals and family gatherings. December holidays feature the lighting of candles.
Kwanzaa celebrates African cultural values, each represented by a candle.
The African theme suggests The Lion Sleeps Tonight, the rock and roll hit whose origins are from South Africa. Hispanic holiday traditions are celebrated with Feliz Navidad, with Glenn encouraging the audiences to give holiday greetings to each other.
A highlight of the show occurs Simon, Theodore and Alvin appear onstage to sing The Chipmunk Song (Christmas Don't Be Late).  It is sometimes noted that the chipmunks look a lot like some of the teachers.
The show concludes with Stevie Wonder's inspirational song Someday at Christmas and Brenda Lee's Rockin' Around the Christmas Tree, made famous in the first Home Alone movie.
We do our best to make sure no child feels excluded, whether their family is observing a major holiday, a minor holiday or no holiday at all.
Curriculum Connections: Multi-Cultural, Visual Arts, Music, Social Studies, Theater