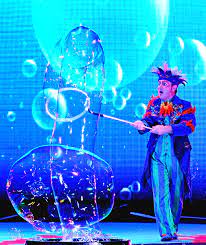 This MESMERIZED is a MUST SEE show will be performed
by the International Guests from Europe. The Underwater
Giant Bubbles "inhabitants" of Bubblelandia – seahorses,
dragon fish, starfish, mermaids, clown fish and others –
will carry Mr. B along his imaginary journey in this
beautiful underwater world where fantasy becomes
reality, and you are invited to follow him. From classics
such as "Pinocchio", "The Little Mermaid", "Beauty and the
Beast", and "Peter Pan", "B" is considered a modern fairy
tale in which we can all find ourselves, without age limits.
Your students will NEVER FORGET this show and YOU
TOO!!!