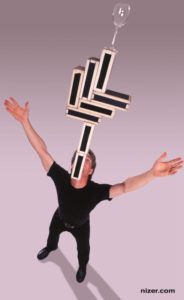 Science, Juggling, Circus Fun show!
Join us for a spectacular END OF THE SEASON show performed by the World Famous Juggler-Mark Nizer returns to Arts On Stage NY!
Back by Popular Demand.
Fabulous Feats of Physical & Circus Fun helps students to realize that science is interesting and fun. Mark Educated and Entertains students with his art of juggling, while illustrating the principles of motion, light, energy and gravity.
Science, Juggling, CIRCUS, FUN! An Amazing Juggling Balls, Juggling Clubs, Devil Sticks, Chinese Diablo, Laser and more!

HIGHLIGHTS: Walt Disney World, Kennedy Center, Lincoln Center, MTV, HBO's, Arsenio Hall, Jerry, Seinfeld, Ray Charles!
Don't miss the end of this special show your students will never forget!
Curriculum Connections: Science, Physics, Circus Arts, Music, Theater, Physical Fitness