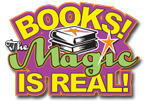 Books! The Magic is Real!
Classic and current popular literature choices such as "Harry Potter", "Diary of a Wimpy Kid", "A Series of Unfortunate Events", "Snowflake Bentley" and more! Magician Joe brings popular children's books to life through the art of magic & illusion!
"Books! The Magic is Real" is a fast paced production filled with music, comedy, audience interaction and or course….magic!  Even teachers find they draw inspiration from this production, which makes it easier to think of ways to help keep this energy flowing even after the assembly is over. The "bug" for reading gets going around, and soon everyone catches it. Joe motivates students by igniting a passion for reading all through the school year.

Joe has appeared in every major theme park in the United States including Universal Studios, Walt Disney World, Knott's Berry Farm, Six Flags Texas and Six Flags America. His appearances include The White House, Disney Cruise Lines and halftime appearances at The Washington Redskins football games.
Most recently, Joe was chosen to open for First Lady, Michele Obama at the "Read Across America" celebration at the Library of Congress."Books! The Magic is Real!" has been called the best reading production ever, by parents and educators alike! Come experience "real magic" with "Books! The Magic is Real!"!
Curriculum: Literature, English Language Arts, Theater, Music, Visual Arts